I live in the Hills District of Sydney, North West of the CBD, with my husband Ramzi. It's worlds apart from Docklands in Melbourne, our previous home in 2018. Before that we spent four years in Perth, Western Australia, and that's four years of my life I'll never get back. After feeling like a Nomad for almost six years, I've finally returned home to the state I love best, New South Wales.
I was born and raised in Sydney's inner-west and spent much of the 1970s in what I now describe as suburban hell. The youngest of three, and the only girl, my brothers and I learned the meaning of streetwise from a young age. Looking back, I'm not sure if it helped or hindered my long-term survival — a bit of both, I guess.
I became a grandmother at the age of 49, and it wasn't a title I was ready for or had given any thought to. But my granddaughter Boopy, as I call her, came into my life in August 2013 and stole my heart from the moment I first laid eyes on her. My mother was right about a grandchild's love: there is nothing on earth like it. I've come to realise that only a grandparent can know the true meaning of this. And then it happened again. My grandson was born in March 2019, a day before my 55th birthday. Witnessing his arrival was something I'll never forget. It literally was love at first sight. I have a feeling we are kindred spirits.
Mum also told me the reason I was a fat kid was because I was born at lunchtime. I grew up believing fat people must have been born at the same time I was, or possibly dinnertime. Mum said I came into the world hungry, so being fat was my destiny. She didn't say it to be cruel. Mum had an obscure way of explaining things. It would be decades before I appreciated her clichéd lessons in life, but I figured early on that destiny has nothing to do with dress size.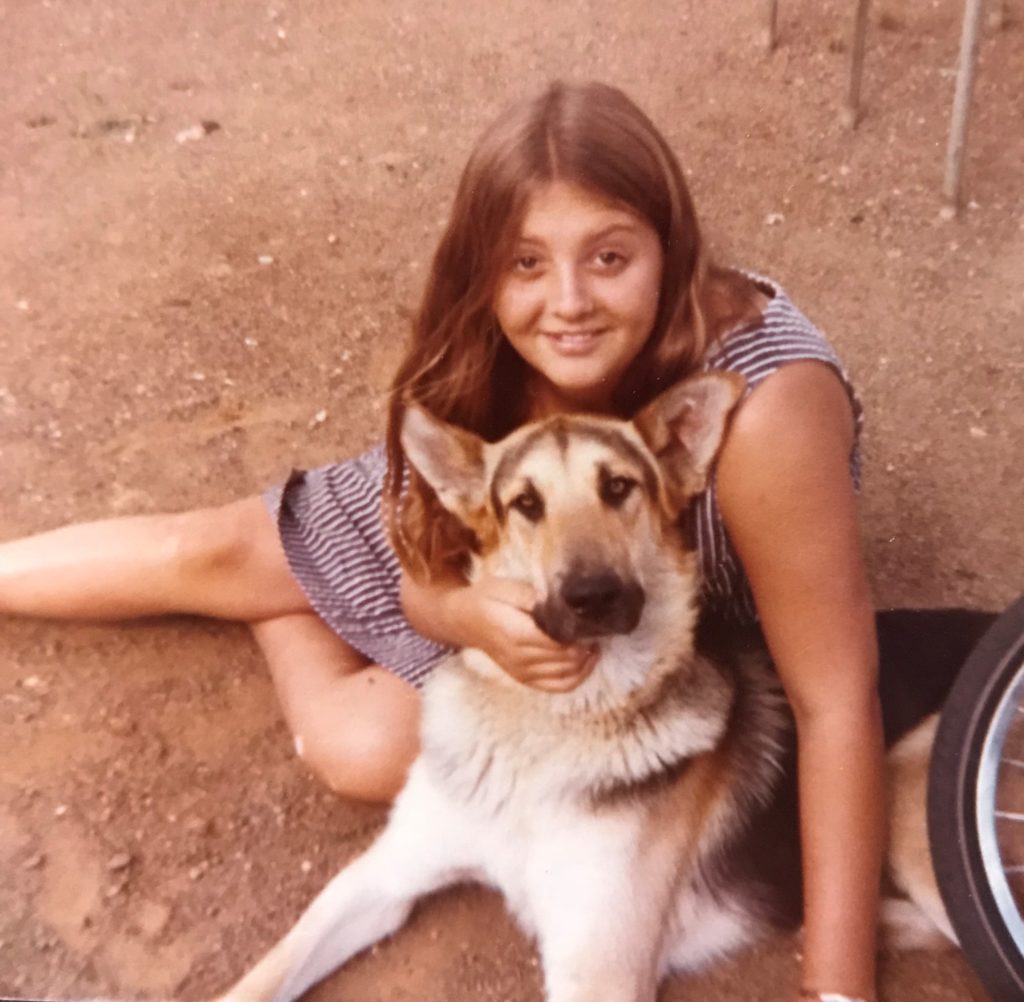 I can't watch scary movies, especially ones about poltergeists. Even if I see a trailer I have nightmares. I saw The Amityville Horror at the movies when I was 13. That shit damaged me for life. I can't get my head around why people enjoy that genre. I still sleep with a light on somewhere in the house so I'm not in complete darkness.
I am a traveller at heart. I just have to learn to pack less. My husband would agree. My toiletries alone fill half a suitcase. Clearly a gypsy life was always going to be a pipedream.
Embarrassingly, I have never been to Europe despite my heritage. My father was an Italian immigrant who came to Australia when he was 19. He never went back to his homeland, and so I never met my Italian grandparents. It's too late now, but one day when I finally get to Italy I will seek out my extended family and see the village where my father was born.
Europe has been the destination of my dreams since I was a little girl. My travel plans – much like my life plans – always seemed to take me in opposite directions though. Instead of Europe, I've always ended up in Asia or on tropical islands, or even the USA — except for New York. New York has been on my bucket list for decades, yet I still haven't been there. I'm not sure why my passport is filled with Plan B destinations, but there they are — none more obscure than its Dominican Republic stamp. I once flew there alone to meet – let's just say an old friend. It was there, on a day trip to a Caribbean island, that I contracted a parasite that almost killed me. I could write another book about that ordeal. Three delirious months later I started to feel human again. I have vowed to boycott that part of the world — but Cuba is on my bucket list. After Europe and New York of course, oh and Iceland is a recent addition to the list. I want to stay in one of those ice bunkers with glass rooftops and watch the aurora borealis as I drift off to sleep… I figure that's as close to heaven as I'll get — until I actually get there.
In another life I would be David Attenborough, or a National Geographic photographer, or a nomad, or Andrew Zimmern – the Bizarre Food guy (he's so brave) – and all of them put together would travel lighter than me!
I'd like to list all the smart things I've done, including all my degrees, but that would be a short list, very short. No degrees here. If I'd had the brains – or the good sense – to know life is short but can seem really long so I had better do something I enjoy waking up for, I would have studied to be a forensic pathologist. Interesting work, if you have the stomach for it. I believe I do. Gore and guts don't bother me. I find all things medical fascinating. I love medical documentaries. My husband has to look away from the things that intrigue me.
I left school in Year 10 and went to secretarial/business school. I learnt to type the old-fashioned way – on a typewriter. The teacher would cover the keys by sticking a sheet of paper over them so we couldn't cheat. I still don't look at the keyboard while I'm typing — if I do it just slows me down and I make mistakes. I topped the class in speed and accuracy, which meant everything in those days. Still, I wasn't convinced working 9-5 in the corporate world was me. I was supposed to be a gypsy, Goddammit!
I did a bar course — as in cocktails, not Law. Any skill that would help as I travelled the world was added to my 'careers on the go' list. I acquired certificates in RSA (Responsible Service of Alcohol), First Aid, Remedial & Swedish Massage and Beauty Therapy. These skills were useful in my youth as I pondered what life was going to look like. When I was 18 my father offered to buy me a salon to start my own beauty business. I said no. It seemed far too permanent at the time. One of the many dumbarse decisions I've made I'm sure.
I decided on photography. I thought it would be lucrative in any language. My parents – having reached the bottom of their pockets with upskilling my career choices – gave me an ultimatum: they would bankroll half of the extremely expensive photography school tuition if I worked and paid the other half. Fair enough. I loved typing, so I decided on my original career choice. After a few insignificant jobs I found my way into the global accounting firm Price Waterhouse, long before it became Coopers (PWC). 9-5 became my mantra. Talk about going in opposite directions — I stayed for six years. There was something to be said for a steady income. My inner gypsy didn't stand a chance as it turned out, nor did photography school. Only a few other companies have held my attention for so long. Only one gave me some of the most exciting times in my life.
aussieBum is a men's swimwear and underwear company that I had the privilege of helping start back in 2001. I worked in the company on and off for more than a decade, in various and varied roles. It was at aussieBum that I discovered my love of writing. I started an online magazine called AusLife, which focused on Australian culture and appealed to the thousands of die-hard aussieBum fans and customers around the world. My most memorable interview was with Jimmy Barnes. We sat at his kitchen table while his wife and kids got on with their morning ritual of being a normal Aussie family. It was the most relaxed I'd ever felt talking to a legend. I also interviewed Tony Bonner of Skippy fame. I grew up watching Skippy – every kid in Australia did – so it was kind of surreal sitting opposite him.
Incidentally, while we're on the topic of fame, when I was 17 I saw INXS perform at a local pub before they were famous. After the show Michael Hutchence kissed me on the cheek and thanked me for coming. Little did I know back then how memorable that moment would be!
Writing, I've discovered, gives me the kind of clarity I can't muster when I speak. I may be exaggerating, but most of the time I feel that my brain and mouth are two separate entities. Mind you, there's a lot of debris in there, and the fog nowadays doesn't help!
'Eating clean' are words I'd like to use to describe myself, but I'm a shameless sugar addict from way back. The older I get though, the more conscious I am of sustainability, so I do try and be good. What my body once accepted without drama, it now rejects with vengeance. Including running. I started running when I was 34. It gave me the kind of high you can't buy. I love everything about that feeling: the start, the rhythm, the momentum, the breath, the sweat, the elation — only a true runner will know what I mean. I miss it every day. Damn my hip flexors and knees!
After turning 50, my arse suddenly had a mind of its own. A woman's change of life is a metaphor for 'say goodbye to the arse you once knew'. You won't read that in the fine print on the brochures. You won't read a lot of stuff about the wars of menopause, and I won't bore you with the details now, but I will say menopause is the root of all evil.
There is something to be said for grown-up love. I only learned this later in life during my second marriage. The downside comes with a shitload of baggage and is one thing you really can't plan for. Just as well I haven't lost my sense of humour!
Between marriages and aged 42 I was single for five years. I wrote a blog about men and dating, a kind of Sex and the City journal. People told me it was really funny. If Candice Bushnell hadn't already written the book, I would have.
Soon I'll be working on my second book, Every Fabulous Thing. I hope it won't take long but, given my history, shit is bound to happen… I have other books in my mind, swirling in the debris, waiting to get out. One day I'll write a sequel to Every Shitty Thing. It'll be tricky, but it's a story that wants to be told and I will tell it for every woman out there dealing with the blended shit of being wife number three or any other number.
For people who don't know me, Marcia is pronounced Mar-C-a, not Marsha, as in The Brady Bunch. My friends call me Marce, Marcy and sometimes Moo – my granddaughter calls me Moo-Moo. I'll answer to most names except Marsha.
Lastly, it's taken me 50 years to realise my life isn't about punishment. Finally I understand that all the shit I've been through isn't random or coincidental. I believe it was necessary — and it's got me to exactly where I need to be. It's a work in progress, and so am I…