Sometimes the biggest mistakes of our lives turn out to be the greatest miracles…
---
By the time Marcia was a teenager, she had been betrayed by every male in her life. Her childhood of abuse, insecurity and self-loathing was spent in the working-class suburbs of Sydney in the 1970s. Food was her only solace, a gypsy life her dream. But at the edge of the abyss, there was light in the darkness: her daughter. Every Shitty Thing is about betrayal, deception, heartbreak and endurance, with humour between the threads, and it's a story of hope, of never giving up on love, of learning to trust again. This is Marcia's story, and how she came to understand that whatever shit we endure leads us to where we need to be.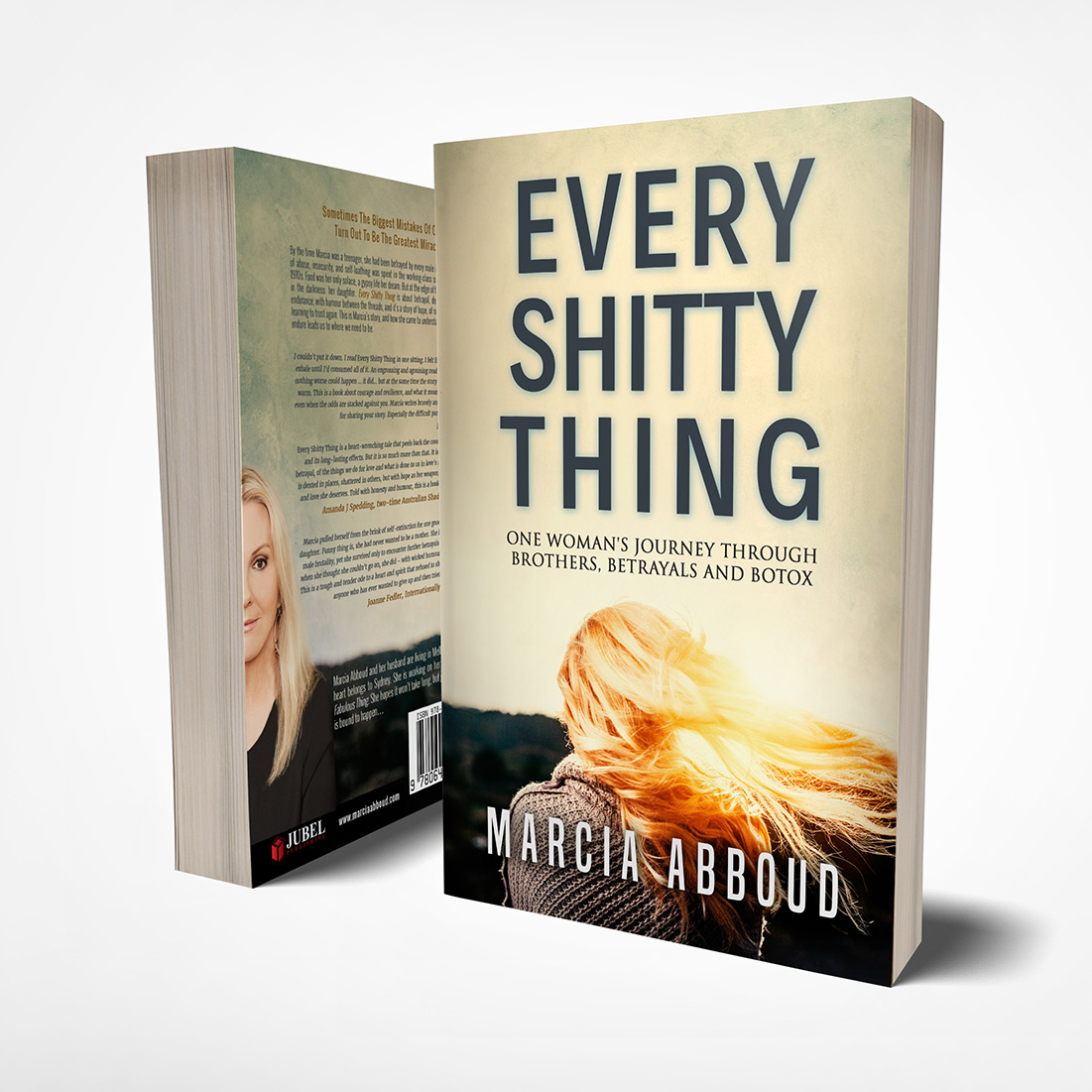 The Story behind the Book
---
Every Shitty Thing is not the book I intended to write almost 20 years ago. Back then I had a different story to tell, or so I thought. I'm not sure why I wanted to write. I wasn't born with it and I didn't grow up believing anything so 'grand' would be possible for me. By grand I mean capable of achieving. I come from a long line of 'glass half empty' ancestors, so it was best to aim low, or at least not too high, for fear of disappointment.
In all honesty, the seed to write was planted by my friends. Anyone who knew me well knew my story. I can't tell you how many times I heard "Marce, you should write a book!" Really? I should be 5'10" and a size 8, but that's never going to happen. They might as well have said "Marce, you should be a man!" The possibility of either was zero. End of story.
But one day in 2010 I took it seriously for the first time. I had enough money in the bank to last three months if I quit my job, so I did. I think about it now, shake my head and laugh. Three months — what a joke. An ambitious undertaking for anyone unless you're Stephen King, but given my usual state-of-being I have no idea where this compulsion – deluded assumption more accurately ­— came from. I imagined if I wrote for eight hours a day, seven days a week — as if that's doable — my timeframe wasn't unreasonable. In fact I'd nail it in two months easy. All I had to do was put my mind to it, right? Wrong. 80,000 words of vomit later, and my bank balance at zero, I had to go back to work. I shelved the vomit, waitressed, and worked in retail while I looked for a new career and a real job, which had nothing to do with writing.
Life happened. Writing didn't. Then one day in 2015 I couldn't ignore the feeling in my gut a minute longer. Something was seriously missing. No matter how hard I tried to fill the void with other things – mostly chocolate – I couldn't. The urge persisted. I knew I had to finish what I'd started all those years earlier. Again, not sure why. As a rule I'm not a finisher. Let's face it, exit while the odds are favourable… I was old enough by then to know I didn't have a clue. I'd read plenty of memoirs, but writing one is another thing entirely.
So, in September that year I did a writing workshop. I thought it was a good place to start and get some tips. It was there I met the woman who would become my writing mentor for the next 18 months and change me in ways I never thought possible. In May 2016 I went to Fiji on a writing retreat with 13 other women I didn't know. We spent an intensive six days sharing, crying, laughing and learning about writing. This was the turning point of my writing life, and the real birthplace of Every Shitty Thing.
After a lot more vomit – it's a good thing for a first draft, apparently – and about seven rewrites later, a change of title and a total redirection of story, I finished Every Shitty Thing in December 2017. I had pitched my manuscript to a well known publisher back in October 2017. They wanted me to change my title. They said profanity on the front cover of a book is not commercially pleasing to the eye. Someone forgot to tell Mark Manson this when he wrote The Subtle Art of Not Giving a F*ck. Clearly he didn't give a f*ck, and neither did I. I decided to self-publish. For a 'glass half empty' archetype, I sure do surprise myself sometimes.
My self-publishing journey has been an enormous learning curve. I must admit the business end of writing a book wasn't something I anticipated when I first set out. Had I known what was involved, what I know now, I probably would have given up. But I've been lucky. The right people have miraculously crossed my path at exactly the right time. And with my strategically gifted business-minded husband as my manager, I've had it good really. It takes a team to self-publish, and a lot of patience.
In August 2018, eight months after the final edit, Every Shitty Thing was finally published and distributed! Better late than never as they say… My hope for the book: that it inspires and entertains. For every woman – and man – who reads it, may it stay in their hearts and minds, and as they reflect upon their own lives, on the shit they've endured, may they too be assured that what they've been through doesn't define them, but has made them the strong and courageous person they are, or will be. All in good time…
Now for the next book. I hope it won't take long, but given my history shit is bound to happen…
Into the Abyss
Not Like in the Movies
In the Spotlight
The Wedding Part 1 ‒ She's thinking of the Bad Times
The Wedding Part 2 ‒ Chim Chiminey
The Trouble with Brothers
Cruel, Cruel World
A Gypsy Life
A Lot Can Happen in a Minute
A World Gone Mad
Dogsville
Three's a Crowd
Signs and Bad Decisions
Miracles in Disguise
The Ring
Flipping Out
Once an Addict
Back to the Future
Twenty Days to Freedom
Fix You
It's About the Rent…
Into the Abyss – Part 2
Take Me Away
In the Aftermath
The End of Wars
50 Shades
Sundays
Second Chance